Elevate Your Pre and Post Workout Rituals with ESPA
Refresh and recharge your mind pre and post workout routines with ESPA's Fitness collection. With stimulating aromatics and rich hydration, this range will inspire your workout. Look forward to post-workout bliss as you unwind and recharge with ESPA.  
Soothe and revive the mind, body, and spirit with our Fitness range, elevated by luxurious natural ingredients and rich textures. Unwind from your daily workout with our powerful aromatherapy blend featuring refreshing Eucalyptus, calming Rosemary, soothing Lavender, and warming Clove. 
The Fitness range is the perfect addition to your everyday workout process that nourishes tired muscles, sore bodies, and mellow minds. Perfect for anyone who enjoys holistic nourishment and revival.  
Your Post Work-Out Bathing Ritual Begins Here.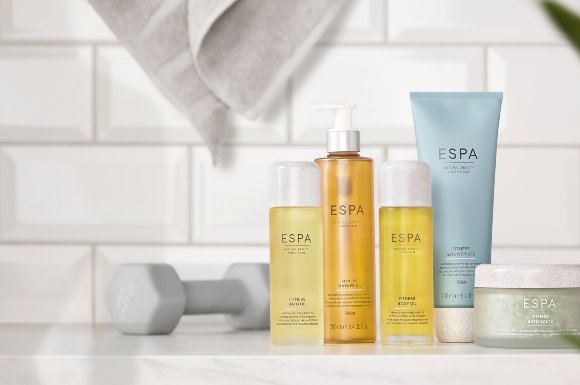 Bath Products for Aching Muscles
Bathe in ESPA's luxurious naturals.  
Everyone's favourite indulgence for the skin and the senses. Our expertly crafted Fitness bath range brings you the perfect balance of nourishment, relaxation, and vibrance for holistic harmony.  
Relieve your tired mind and body with this hydrating and aromatic oil – enriched with Rosemary and Peppermint for post work-out bliss.