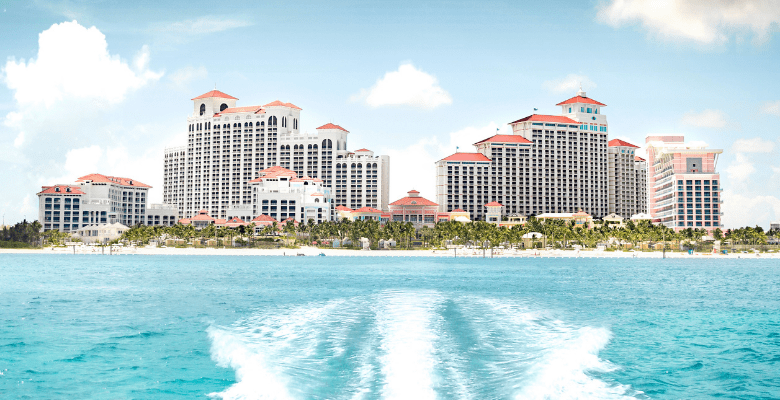 Introducing March's US Spa of the Month; the breathtaking Baha Mar resort in the Bahamas.
Baha Mar is a master planned $4.2 billion integrated resort development. The white sand beach destination includes three global brand operators – Grand Hyatt, SLS, and Rosewood – with over 2,300 rooms and 40 restaurants and lounges, the largest casino in the Caribbean, a state-of-the-art convention center, an 18-hole Jack Nicklaus Royal Blue Golf Course, the Caribbean's first and only flagship ESPA spa, and over 30 luxury retail outlets. Baha Mar is a breathtaking location with dynamic programming, activities and guest offerings in one of the most beautiful places in the world – The Bahamas.
ESPA at Baha Mar will continue to ensure our guests have a comfortable and unforgettable experience. They have enhanced their health and safety protocols in all operations in accordance with the World Health Organization (WHO) guidelines and with local government officials to ensure the safety of our guests. This includes temperature checks upon arrival, face coverings while traversing through the spa, increased cleaning and sanitization protocols, and physical distancing measures. 
"We are thrilled to welcome back our associates and share Baha Mar with our guests once again," said Graeme Davis, President, Baha Mar.
Since its opening just over three years ago, Baha Mar has provided guests with a collection of intimate experiences that have naturally evolved into an appealing haven for those looking to safely vacation in the Caribbean. Set along the expansive pristine white sands of Cable Beach and the turquoise waters, Baha Mar features an abundance of outdoor activities for sun-soaked days, warm island breezes and nights under the stars – from spacious private cabanas at eight of our signature pools to Royal Blue Golf Course, individual tennis at Baha Mar Racquet Club and educational encounters with nurse sharks, stingrays, and flamingos.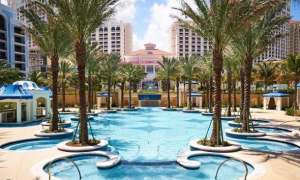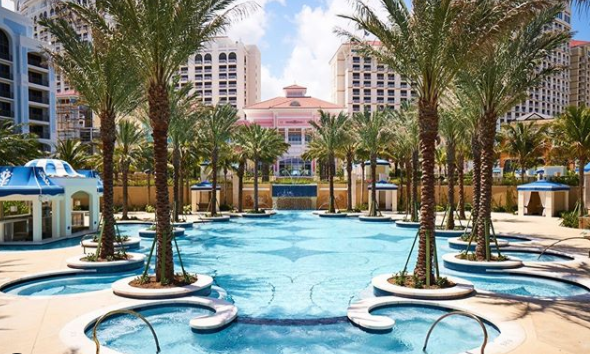 Explorers Club
New in 2020, Baha Mar's state-of-the-art Explorers Club encompasses over 6,000 square feet, offering an abundance of exciting activities, educational wildlife encounters and games to entertain the young explorers, ages 3-12. Experienced Explorer Counselors will spend time teaching kids about tropical marine and land animals as well as Bahamian art, culture and history through art projects, culinary experiments and games, as well as educational wildlife experiences at The Sanctuary.
Baha Mar Spa
The Caribbean's first and only flagship ESPA spa follows the brand's location-inspired philosophy, bringing Baha Mar guests an experience rooted in the unique beauty of The Bahamas' natural surroundings. Perched above pristine white-sands and tranquil turquoise waters, this inviting atmosphere is designed to calm, soothe, and bring clarity to mind, body, and spirit. 24 luxurious private rooms provide serene settings for expert treatments and therapies combining proven traditional practices with the most progressive concepts in health and wellness.
Baha Mar's Spa by ESPA offers treatments that combine traditional therapeutic practices with modern concepts to provide the ultimate health and wellness experience. For both instantaneous and long-lasting results on skin, body and mind, expert therapists use the finest therapies and ESPA products to provide treatments adapted to each guest's individual needs or concerns. 
Baha Mar resort has so much to offer every guest. Enjoy a round of golf, tennis, swim, visit the Sanctuary. The Sanctuary is a part of Baha Mar's commitment to the preservation of the natural splendor of The Bahamas. Here, guests partake in thrilling educational experiences as they watch live feedings and engage in hands-on encounters with nurse sharks, sea turtles and stingrays. 
Global Hub for Bahamian Culture & Arts
With more than 2,500 pieces of extraordinary artwork sprinkled throughout the property, Baha Mar is home to the Bahamas' impressive art gallery, The Current, the largest public art collection and the newest art gallery on the island, featuring original works from some of the top talent in the Caribbean.
Casino
The glamorous Baha Mar Casino will re-open with detailed safety protocol and guidelines in place. The largest casino in the Caribbean boasts 100,000 square feet of gaming space, state-of-the-art slot machines, table games, race and sports betting, mobile gaming, and exclusive high roller gaming salons with ample space for socially distant gaming. Private gaming areas will also be available to resort guests. The casino's island-inspired design is complimented by natural daylight and breathtaking pool and ocean views.
Retail Shopping
The resort destination will also introduce new retail partnerships with luxury fashion and lifestyle brands, including Montblanc, Tory Burch, Hackett of London, Satchel and Co. and Carlo Milano. These well-known brands join Baha Mar's curated collection of luxury boutiques, including Cartier, Rolex, Bvlgari, Chopard, Vilebrequin, Lilly Pulitzer, Tropic of Luxury and many more.
Restaurants
Bahamian cuisine is as vibrant and diverse as the country itself.  Fresh, local ingredients and time-honoured culinary traditions make The Bahamas an extraordinary destination for food lovers. 
Local specialties often make use of bountiful seafood that surrounds the island, such as grouper and snapper served a multitude of delicious ways. You'll also taste tropical fruits such as mango, coconut, and guava in many dishes, and in cocktails like the daiquiri and the Goombay Smash. 
The Bahamian culinary scene continues to evolve, as chefs from around the world flock to the islands, bringing international flavours with them and exchanging ideas with local culinary experts steeped in the customs of The Bahamas. 
For more information and reservations at Baha Mar, click here.