Japan has always been on my bucket list as a country I really wanted to visit and when it was right there in my work schedule I couldn't help but get a little excited! We know how work trips and schedules can change from one day to the next, so I tried not to get my hopes up too much. But the day came, and I was at the airport ready for my long 16 hour plus journey! It was one of those 'pinch me' moments. It was so surreal. I couldn't believe that my job as a training manager was taking me to Japan.
The jetlag hit me as soon as I landed in Tokyo; but I didn't have much time to stop, I had to collect my suitcases, get on a bus to find another terminal for my next flight to Osaka. This isn't so easy when no signs are in English! I had only an hour and a half before my next flight was taking off so was a little mad rush in between, but I made it just in time.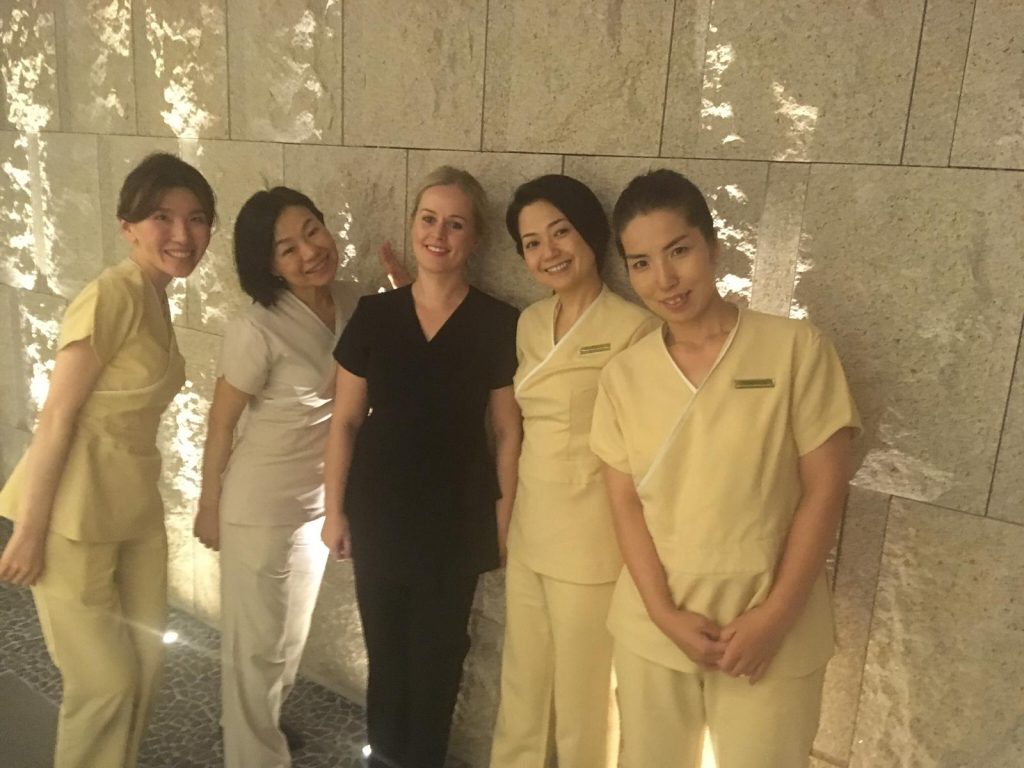 From Osaka I was travelling to Kyoto where I was going to be training with the spa team at The Ritz-Carlton Kyoto for 3 weeks. I was so grateful to arrive on a Sunday morning which meant I had the rest of the day to sleep off the jetlag before starting training on the Monday morning. My welcome in Kyoto was amazing and I couldn't wait to meet the team. As training managers, we say we get the 'butterflies' in the stomach feel whenever we go somewhere new and I certainly had that; the only thing I could say in Japanese was "Konnichiwa" (hello) so I felt a little uneasy about the potential language barrier.
I needn't have worried. The spa team were so welcoming, and I couldn't wait to spend the next 3 weeks working with them. The first week I was insanely jetlagged, and only made it through the days by drinking massive amounts of coffee (and sneaking in a quick 20minute nap on my lunch breaks) but I will always remember the amazing memories I made while I was in Kyoto and Osaka. I got to spend a lot of my free time in the evenings and weekends experiencing the local culture. I made the most of any free time I had, and Japan certainly didn't disappoint. It was everything I imagined it would be and more; from the Sushi, Sashimi, the beautiful shrines, Geishas, the amazing hospitality, the Takoyaki (octopus tentacle filled balls!) and the Go Kart driving through Osaka city centre dressed in a Piglet costume, where else can you do something like that?!
So not only did I get to experience all these amazing adventures, foods and places but also had an exceptional 3 weeks with the therapists and the spa team at The Ritz-Carlton Kyoto which I will be forever grateful for. Those are three weeks that I will never ever forget.