There's something undeniably euphoric about a spa. With calming treatments, soothing facials and deep massages, they're usually the suggested way to calm the body and mind. However, more often than not the sense of calm that envelopes the being occurs as soon as we've stepped foot into the door of a spa. In fact, the additional services are arguably not always necessary. From each step in the soft slippers to the invigorating scent of luxury hand-washes, there are some spa bathroom ideas that play a large part of sensorial experience and can be quite easily brought into your own home. The small changes that you can make to your bathroom can have a significant impact on your wellbeing. Transform your morning routine from a monotonous task to a luxurious regimen, upgrade your showers to a soothing experience and convert an average bathroom into a haven of peace.
Keep reading for our spa bathroom ideas that will make the world of difference to your mind, body, and home.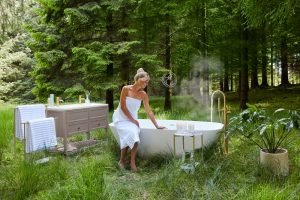 How to make your bathroom smell like a spa
One of the most underrated and significant methods of calming the mind and uplifting the spirit is through scent. This is why knowing how to make your bathroom smell like a spa is a must. With at home spa products, this is a simple yet instantly effective upgrade.
To balance your mood and set the right tone for the day, ESPA's Energizing Diffuser fills a bathroom with a blend of the uplifting oils needed to brighten the early hours of the morning. Simply insert the reeds, turn them to expose the oil and allow 48 hours for the aromatic oil to fill the room with scent. For a stronger scent, use all of the reeds and turn daily. For a more subtle scent, use fewer reeds and turn less often.