This December, we are celebrating some of our top spas in Asia.
The Ritz-Carlton, Tokyo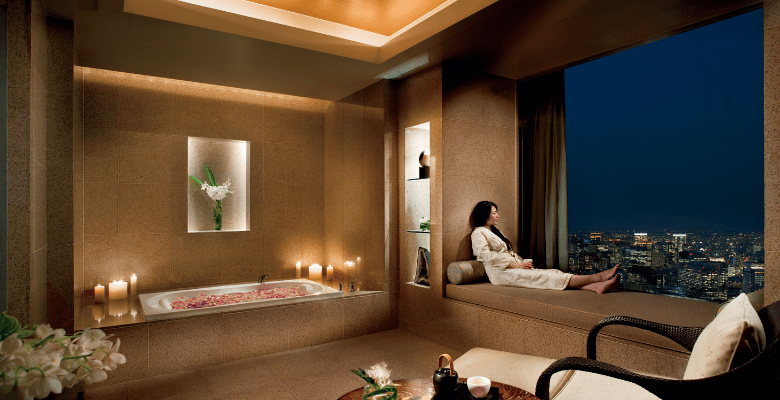 Spanning 21,528 square feet on the 46th floor, The Ritz-Carlton Spa, Tokyo encourages wellness with a blend of Eastern and Western traditions. A sense of tranquility greets guests upon arrival as each contemporary space unfolds against a backdrop of panoramic, skyline views. Here, as guests gaze over Tokyo, the warm lighting, sleek lines and intricate details of the spa hotel set the stage for renewal. Discover innovative therapies like the Sakura treatment, which incorporates rose quartz crystals and essential oils to promote relaxation, or the Zenrenity treatment, which purifies the body with plant-based products and marine algae.
Other therapies include facials and a special treatment menu for men. A full-service beauty salon, 24-hour fitness center, 20-meter indoor pool and a variety of saunas, showers and baths round out the offerings of this luxury day spa.
Featured treatments:
Sakura – Inspired by the cycle of the Sakura and personalized to your needs, slow, circular massage with Rose Quartz Crystals and warm, aromatic essential oils first gently eases tight muscles.
Zenrenity – Re-energize your body with this holistic and deeply cleansing treatment. Targeting the back, neck, shoulders and lower legs, tailored massage with warm Bakuhan stones combines with refining plant actives, stimulating essential oils and purifying marine algae.
The Ritz-Carlton, Singapore
Designed to enliven the senses through evoking the true essence of the ocean and its healing benefits, guests can look forward to a multi-sensory experience that will immerse them in a timeless spa journey at The Ritz-Carlton, Millenia Singapore. 
The calming sounds of trickling water greets guests as they enter the spa, before they are warmly welcomed by a therapist and invited to discover the marine inspired elements of the spa. The tree bark inspired spa corridor that leads to the treatment rooms is characterised by stunning blue oyster glass. Different types of exotic seaweeds, prized for their rejuvenating properties on the skin, give each treatment room its identity.
Prior to the commencement of each treatment, our therapists will connect with guests to discover their needs and to personalise the treatment process. The pre-treatment ritual involves a breathing exercise with selected essentials oils, and a relaxing foot ritual. Post-treatment, guests are invited to awaken through mediated breathing exercises and a hand ritual, before a fond farewell is extended.
Our two signature spa experiences;  
ESPA Indulgence – performed by two therapists, this unique sensory journey combines the ESPA Signature facial with a pampering foot massage.

Cello Concerto – inspired by the love for classical music, this body massage is harmoniously synchronised with 'live' melodies played by a cellist.
Gentlemen can look forward to a curated selection of massages and facials specially designed with them in mind. At Le Salon Rose, this social space for urbanites offers bespoke manicures and pedicures, and can be booked exclusively for a private soiree with friends, a girls' night out, or even a bridal spa party. Of the 10 treatment rooms, the indulgent Ritz-Carlton Spa Suite offers couples an unparalleled romantic long bath and hydro-jets experience following their treatment of choice. Ladies can look forward to a mineral pool that soothes and heals the body, while both his and her locker rooms offer hydro-jet jacuzzis, steam rooms, saunas, shower facilities, and relaxation rooms with Zero Gravity recliners. 
Visit The Ritz-Carlton, Singapore
The Ritz-Carlton, Macau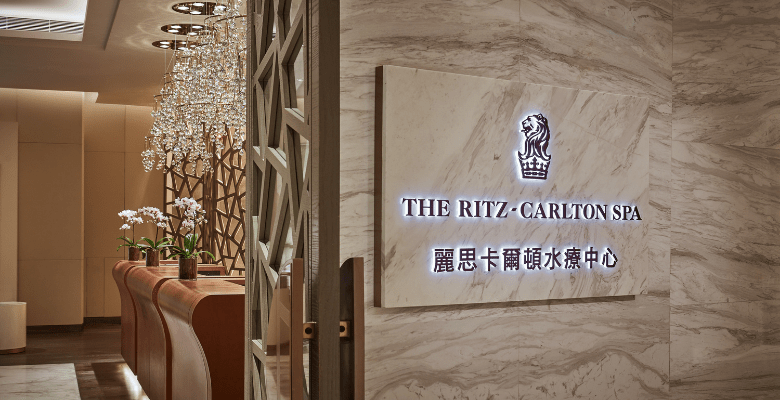 Pulling from the city's Chinese and Portuguese influences, The Ritz-Carlton Spa, Macau offers a wellness retreat swathed in dark timber, rich oak and sleek onyx. Signature treatments feature traditional elements including acupressure massage and the healing powers of jade, while facials and body treatments draw from the expertise of ESPA. The spa experience includes access to relaxation lounges with vitality pools, steam rooms and saunas.
No celebration is complete without proper rest and relaxation, and the award winning The Ritz-Carlton Spa, Macau is pleased to offer guests a 20% discount in the month of December on three wonderful treatments as well as a Christmas gift set to bring the good vibes home. The Jade Reviver is a revitalizing treatment utilizing the powerful benefits of jade and essential oils to awaken the senses, while the Restorative Bamboo Massage unravels any stress and tension with herbal poultices and warm bamboo massage. For a truly indulgent spa experience, the Caviar and Pearl Experience will fulfil the wish list. The extravagant yet elegant ritual uses caviar, pearl and chilled jade rollers to brighten and rejuvenate.