Christmas is a unique time of year in that it can be anticipated as much as it is dreaded. Certainly, the festive season is associated with merriness, cheer, and reconnecting with loved ones. However, it is equally linked with chaos, pressure, and social fatigue. The hustle and bustle that arrives on the 1st day of December and continues for the entirety of the month can quickly take its toll on our wellbeing. For this reason, it is important to first learn, then to remember how to stay calm at Christmas.
Keep reading for ESPA's guide to a relaxing and mindful festive season.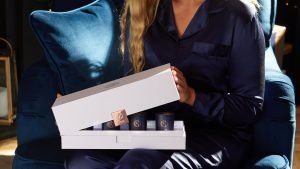 How to relax at Christmas
To begin, let's have a look at some of the obstacles that stand in our way on our quest to stay calm at Christmas. From maneuvering your way around fellow last-minute shoppers to ensuring everything is sufficiently prepared for guests, there seem to be endless amounts of things to do and too little time to do them. Therefore, one way how to stay calm at Christmas despite those external pressures is with sufficient preparation. There is arguably no greater disruptor of inner peace than partaking in the mayhem of shopping in the midst of retail's busiest season.
Preparing gifts in advance
Thankfully, here at ESPA we have our online shop ready and waiting for you, so you can prepare your gifts for loved ones and friends in the comfort of your own home and have them delivered straight to your doorstep. Avoid the queues, the crowds, and the chaos. What's more, we now live in a world where there is an increased expectation surrounding gifts. We can purchase as we please at the click of a button, and as a result, demands are getting greater. This is why we have provided you with our ESPA Experts to guide you through ESPA's must-have presents to lift some of the prevalent Christmas stress off your shoulders. With gift selections for him, for her, for the home, or for a friend, our Christmas page has all you need to delight and indulge everyone on your list. Packaged to perfection, you can rest assured knowing that within each special gift the recipient will find timeless elegance and storytelling woven into each structure.
With gifts well out of the way, this will provide you with ample time to put your feet up and relax at Christmas.
Delegate tasks
During this time of year, many people take it upon themselves to get every task finished exactly how they'd like it. From the very last detailing on the tree to the dinner menu from start to finish. However, why not open your mind to the idea of a helping hand this year? Another effective way how to relax at Christmas is to lighten the burden on yourself and delegate those tasks that can be delegated. Allow any children to help put up decorations and assign the dessert to somebody else this year. It's important to accept help where it's offered. In doing so, you are simply reducing the build-up of Christmass stress that can take over the month of December.
How to have a mindful Christmas
The gifts are underway and the load lightened, it should therefore be notably easier to relax this year. However, it's also important to remember to take some time for yourself and learn how to have a mindful Christmas. Having a mindful Christmas with quality time to ourselves is something each one of us often discards as we dedicate our time to reconnecting with loved ones and old friends. However, in trying to please everybody else, we are neglecting our own well-being. Don't burn yourself out and manage expectations. Be realistic about who you can make time for, and don't forget to book off time to spend with yourself, too.

How to practice Christmas mindfulness
Taking time for yourself might seem close to impossible during the festive season. However, all it takes is setting half an hour to an hour aside before the hectic days begin. One morning you can go out for a walk to clear the head, another, you can practice an at-home spa massage with an Energising Body Oil to rub away any built-up tension. In the evenings, try to maintain an effective bedtime routine. Create a calming environment with a Soothing Candle to promote a good night's rest.
With the right preparation, the festive season truly can be a wonderful time of the year. By following these tips on how to stay calm at Christmas, you can make this year one to hold dearly in your memories. Share the gift of well-being with others and most importantly, with yourself. Enjoy the festivities!
Shop This Post: