Overlooking the infamous Coachella Valley, delicately set upon a clifftop, The Ritz-Carlton, Rancho Mirage boasts distinguished luxury inspired by the desert. Palm Springs is renowned for its never ending landscape of Santa Rosa mountains and lush greenery, the perfect setting for a holistic retreat and wellness journey.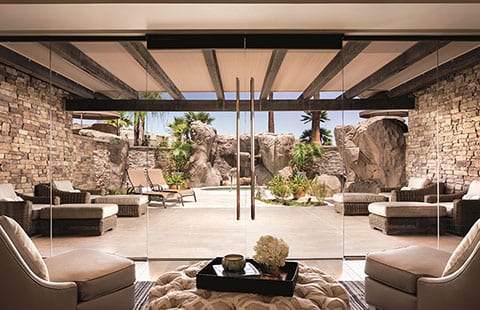 Facilities
Drawing inspiration from the surrounding land, this luxurious spa includes natural elements of stone and wood in the décor, to reflect the external elements of the desert. By also enhancing treatments with indigenous herbs and plant life, the spa creates the perfect harmony between the client and the desert; wholly holistic wellness.
Most of the spas 16 beautiful treatment rooms also include your own private terrace, to take in the breath-taking views of the Palm Springs valley and refresh your mind.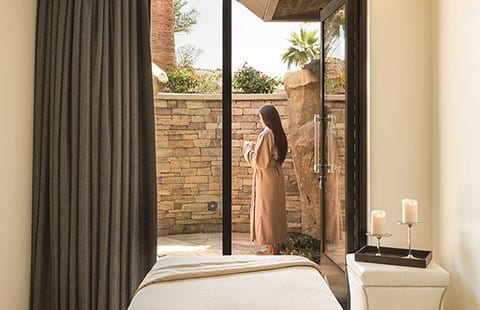 Treatments
The spa includes a traditional selection of massages, facials and body therapies, and also offers private spaces for quiet yoga and meditation, and a gym for the more fitness-focused who are inspired by the surroundings. Cool off in a refreshing plunge pool and visit the salon and retail boutique to take away memories of your retreat and incorporate the ESPA philosophy of natural beauty and inner calm, into your daily life.
Indulge yourself with a Spirit of the Mountains treatment, that provides balance to mind and body through the use of desert herbs and mineral salt. The ancient tradition of healing cleanses and soothes the entire body, aligning your soul with the spirit of the mountains to leave you in a state of sheer bliss. This treatment includes a deep exfoliation, warming stone massage, detoxifying wrap and scalp treatment, attending to every area of the body and ensuring total relaxation and comfort.