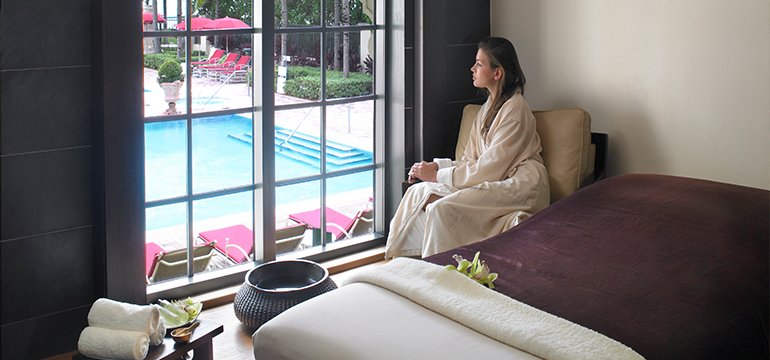 To begin celebrating the re-opening of our beautiful spas, our first Spa of the Month is one of our most beautiful resorts, Acqualina.
Acqualina invites you to step into a world of luxury with unprecedented accommodations and service, world-class dining destinations, including Il Mulino New York, three oceanfront swimming pools, Acqualina Spa by ESPA, spacious meeting rooms, and an innovative marine biology-based AcquaMarine program.Reminiscent of a Mediterranean villa with its leisure-focused lifestyle and grand design, Acqualina is South Florida's only five-star hotel of its kind to be built completely open to the ocean, free of barriers between its luxury rooms, lavish residences, and its 400 feet of glistening Atlantic shoreline.  Distinctive architectural features, such as the grand porte-cochere.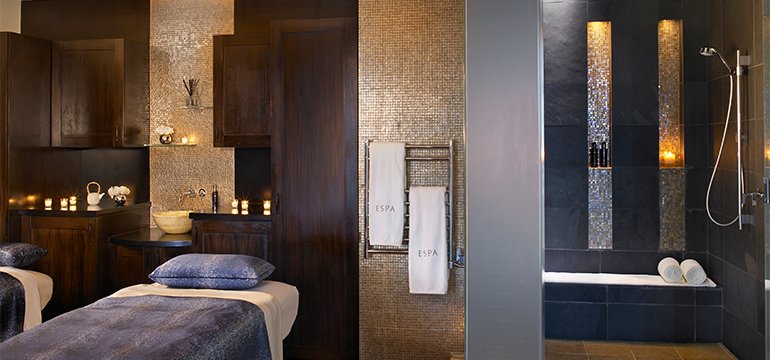 Covid Guidelines:
The key to a memorable hospitality experience is how Acqualina makes their guests feel, treating them in the same way as you would care for a loved one. This has guided Acqualina as they move forward and take actions to stop the spread of COVID-19. Acqualina's commitment, as it always has been, is to the wellbeing and safety of all guests, team members, residents and the community at large. Baroque fountains and sculpted archways, offer a calming sense of departure from the outside world entering a new sense of calm as the property has implemented new safety and cleanliness protocols post COVID–19 closure.  Included in these new protocols is the reopened hotel, Acqualina Spa by ESPA, Il Mulino New York, the beachfront Costa Grill restaurant, pool and beach areas, and the AcquaMarine children's programs.  
The new sanitation guidelines include temperature checks upon arrival to the Resort and Spa, new technology in interior and exterior areas with electrostatic disinfectant tools, the use of gloves and face masks by all employees, and the use of masks by guests in common areas.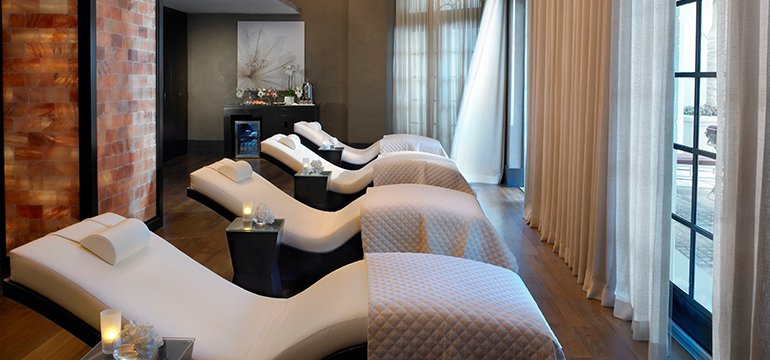 Spa Treatments:
At the Acqualina Spa by ESPA, guests can relax and unwind while receiving their most loved ESPA, Hyrafacial and Cryotherapy treatments. The Spa team is following CDC and WHO guidelines and the team members are utilizing masks, gloves and shield when appropriate. Guests can enjoy the experience shower, the luxurious Spa outdoors and have additional amenities available upon request to ensure a blissful experience.  
Treat yourself and book the Infinite Beauty HydraFacial and/or any Cryotherapy Treatment and receive a complimentary gift. 
Allow the Acqualina Spa by ESPA expert estheticians customize your HydraFacial experience to achieve optimal results.  The Infinite Beauty Hydrafacial features a detoxifying Lymphatic Drainage, deep cleansing using HydraFacial technology, and intense hydration with Vortex-Fusion of a chosen booster to address your specific skin care concerns. This treatment concludes with LED Light Therapy to further reduce the visible signs of aging, a deeply hydrating ESPA face mask and a relaxing scalp massage.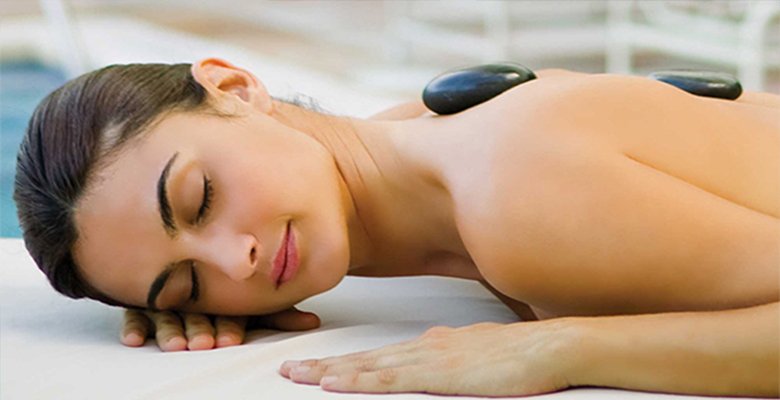 The new Cryotherapy treatments will alternate between hot and cold temperatures using the Cryo T-Shock to achieve desired results such as reducing the appearance of cellulite, treating sore muscles, inflammation reduction and the overall signs of aging. 
Aside from Acqualina Spa by ESPA, some of our favourite ways to social distance is by enjoying a picnic in a beautiful surrounding. Acqualina is blessed with a gorgeous beachfront location for such an outdoor dining experience. They offer a gourmet picnic basket bursting with delicious delicacies to suit every occasion which is available for their guests and residents. 
For the evening, a romantic beach front dinner awaits you. Set on Acqualina's pristine beach, just steps away from the sea under a canopy of stars, the beachfront dinners offers the most memorable experience whilst the chefs create a delectable menus for everyone to enjoy.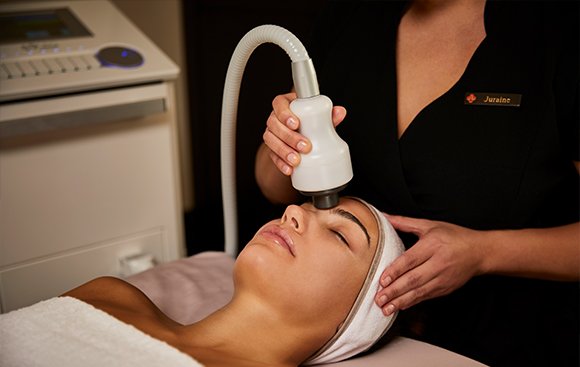 Things To Do:
The culture of South Florida is a unique mosaic unlike anywhere else in the world, and Acqualina Resort & Spa is more than pleased to be the gateway to such unique cultural experiences as: 
The world-renowned South Beach, Ocean Drive, and the Art Deco District

 

Miami's Design District

 
To book your stay at Acqualina, click here.