The ESPA Tri-Active ™ Resilience ProBiome range respects, nurtures and supports the skins delicate microbiome, it's first line of defence against the onslaught of environmental aggressors, while effectively keeping skin hydrated which maintains effective barrier function. 
This range provides your skin with ingredients that are full of natural antioxidant properties, helping to support your skins natural defences against environmental aggressors and oxidative stress. 
Signs you should be using the Resilience range: 
Dehydrated, tight, uncomfortable skin

 

Redness

 

Dull and tired looking skin

 

Imperfections, visible pores

 

Unbalanced, reactive and stressed skin

 

Uneven skin tone and texture

 
Tri-Active ™ Resilience Rest & Recovery 
Night 
Balm
Tri-Active ™ Resilience Rest and Recovery Night Balm Replenishes and fortifies skin whilst you sleep, reducing visible signs of stress on the skin for a rested and rejuvenated appearance.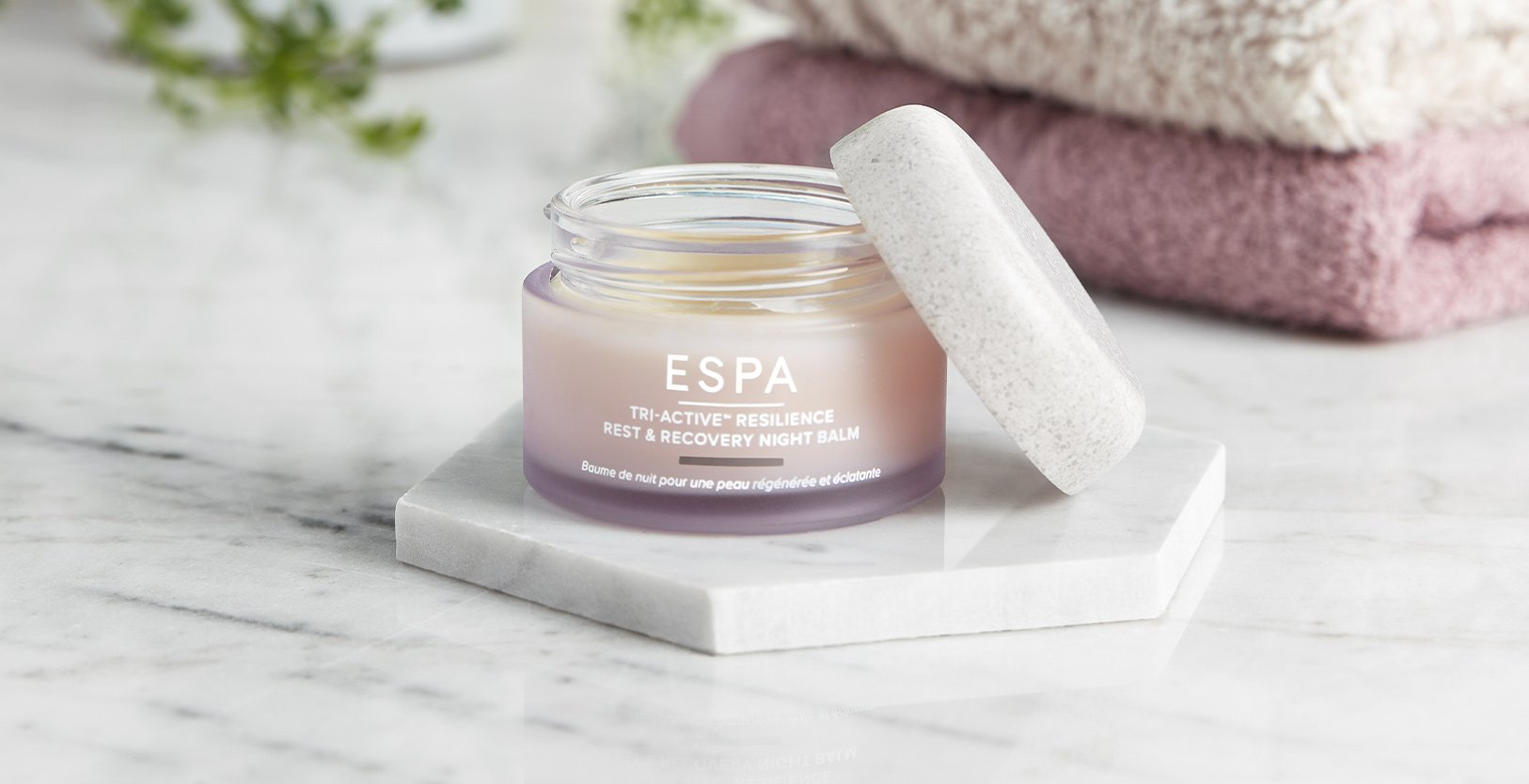 Tackling the visible effects of modern lifestyles and environmental aggressors, Tri-Active ™ Resilience Rest & Recovery Night Balm is specifically designed to support skin's own natural processes by optimising night-time recovery for strong and resilient skin.  
While you rest cocooned in the balm's relaxing aroma, this creamy, comforting formula is hard at work to help replenish and fortify the skin with a powerful blend of antioxidant-rich Willow herb, smoothing Marine Bamboo, calming Patchouli infused with Phytocannabinoids, and the protective powers of Buriti Oil; all potent ingredients that collectively help maximise every minute of your beauty sleep so when you wake dull, tired complexions look refreshed, more luminous and healthy.   
How it works:
During the day our skin is constantly challenged by the onslaught of daily environmental aggressors, which combined with hectic modern lifestyles and lack of sleep, can all have detrimental effect on the appearance and resilience of our skin.  
Our internal clocks control not only our moods, energy levels and hormones, but our skin health too. At night time our skin is most active at repairing and also preparing for the day ahead.  These processes are controlled by circadian rhythms, ensuring these processes occur at the right time. External pressures such as stress & lack of sleep can throw this schedule off, and the result can be skin that looks fatigued and feels less resilient. Tri-Active Resilience Rest & Recovery Night Balm has been designed to complement the skins natural night time function and ensures that on waking skin feels renewed and looks replenished. 
Helping to reduce the visible signs of stress in the skin, these nourishing lipid-rich plant oils, rebalancing botanicals and moisturising marine actives aid optimum rest and recovery so skin looks rejuvenated and feels fortified, more resilient and ready for the day ahead.  
By supporting and optimising skins own night time rest and recovery processes combined with a calming and relaxing essential oil blend of Neroli, Lavender and May Chang, this balm is the ultimate in overnight skincare therapies. 
Key Benefits
Leaves skin with a well-rested inner glow 

 

Helps skin feel protected from daily environmental stressors 

 

Reduces the impact hectic modern lifestyle and lack of sleep have on skin 

 

Complexion is improved and looks less dull and stressed

 
Key Ingredients
Marine bamboo is a brown seaweed which grows upwards to 3m long, resembling bamboo forests on the land. This ingredient is enriched with antioxidants such as beta carotene to protect the skin from daily aggressors such as pollution. It helps combat the visible impact of hectic modern lifestyles, such as dry, rough skin and premature ageing.

 

People of the Amazon adore the Buriti fruit which grows off the tree they call 'the tree of life'. They love it because of its diverse benefits to the body. Native to Amazon Rainforest in South America, Buriti oil is incredibly rich in natural 

betacarotene

. The vitamin E that's also found in Buriti oil is great for the protection against any environmental stressors. This helps to shield you from the factors we face in everyday life, locking in moisture and keeping your skin looking healthy and protected.

 

Cultivated for over 3000 years and traditionally given at Chinese New Year as a symbol of wealth and prosperity, mandarin fruit produce a fresh, sweet, citrusy essential oil, rich in antioxidants and also associated with uplifting, rebalancing and comforting benefits.

 
Consumer Testing 
 4–week User Trial of 120 panellists.  
During and On Application

 – 84% of people said that this product left their skin feeling instantly nourished. 

 

After 2 weeks – 86% of people said that after waking this product left their dull and tired skin looking visibly replenished. 

 

After 4 weeks – 89% of people said that this product left their skin feeling nourished and supple. 

 

"Skin was visibly more radiant and rejuvenated"

 
How to use 
To gently melt the balm, glide your fingertips over the surface in circular motions to warm and soften the nourishing lipid rich oils

.

 

Smooth 

a thin layer 

over cleansed and toned skin, covering face, neck and decollate area.  

 

Gently p

at into the skin, then complete the application by cupping your hand over the nose and mouth, whilst taking 3 deep clearing breathes allowing the calming and soothing aroma to work its relaxing magic

,

 preparing you for a restful 

night's

 sleep. 

 

Can be layered over Tri-Active ™ Resilience 

ProBiome

 Serum or Tri-Active ™ Regenerating 

BioRetinol

 Sleeping Serum

 

Can also be used as an intensive nourishing balm for areas of dry skin on the body, cuticles and nails.