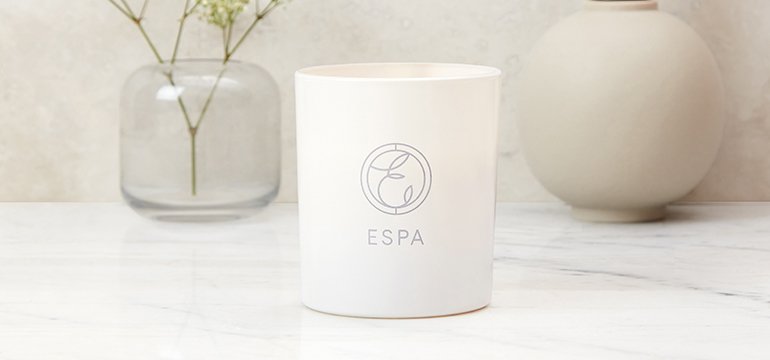 The New Candle Collection
Discover the next chapter of ESPA's scent story in 2020 with the new ESPA Home Fragrance collection. A luxurious addition to any home, ESPA's new range is beautifully created with white glass, proudly housing a new monogram which is the perfect beginning in ESPA's scent story. Continuing to celebrate ESPA's holistic philosophy to take care of skin, body and mind, ESPA's new collection will become firm favourites within the brand.
Using a classic colour palette, ESPA have created a sophisticated and simple collection that celebrates the beauty of natural wax and how it burns, and the power of diffusing scent.
Timeless vessels ensure that you can decorate any space in your home, to feel elegant and to radiate a feeling of understated luxury. Glass is used to enhance a sense of serenity and calm, complimenting the ebb and flow of modern life. This collection is a physical representation of inner calm and the personality of ESPA as a brand.
Enjoy a new formulation of our candles with an 8% fragrance level and 100% natural wax. Natural wax has a higher melting point, which means the recommended burn time is longer, reaching up to 4 hours per session. This creates an elongated, pleasant atmosphere for you and your loved ones. This collection will be available in ESPA's signature scents of Soothing, Energising and Restorative, and now with an uplifting new addition, the Positivity blend.
The increased concentration of essential oils in our new candles helps to provide a more concentrated aroma for your home.
The newly developed natural wax blend is expertly formulated with a blend of Hydrogenated Soy Bean Oil/Wax (containing beeswax), High Melt Point Vegetable Wax Parhi and Fragrance. These ingredients ensure that there is a cleaner burn, as well as a longer-lasting and more aromatic experience. All ESPA candles have passed the soot testing phase, which confirms the clean burn status. The combined wisdom of traditional holistic therapies and the scientific power of the purest natural ingredients are encompassed in all ESPA creations; and ESPA's home fragrance vessels are the perfect example of this.
No matter what your personality is, ESPA allows everyone to write their own scent story and to discover each scent in their own way. Bathe your home in swathes of fragrance, flickering light, stunning scents and create a home that feels inherently "you". Walk through your front door and instantly feel a sense of comfort and calm, no matter how trying a day you have endured.
Now with a modern twist, ESPA candles come with a stylish metal plate to use as a lid to protect your candle. This also doubles up as an elegant plate to stand your candle on, protecting all surfaces in your home and to proudly showcase the candle as a statement in your home. This dual-purpose feature is a new addition to the ESPA candle collection in 2020 delicate yet decadent addition to any room in your home.
Choose your perfect home fragrance style, your favourite blend, and be on your way to writing the next chapter in the ESPA Scent Story.