My journey to becoming an ESPA UK and International Training Manager certainly was a long and winding one.
Sometimes I wondered if I would ever reach that destination, that end goal of becoming a trainer…. but I got there, and all the hard work and dedication was certainly worth it.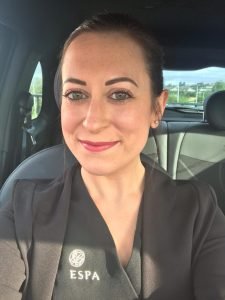 My career with ESPA began back in 2011, I had just left college (I did a 2-year HND Beauty Therapy course in Edinburgh) and got a job as a Spa Therapist at One Spa in Edinburgh. I had never used ESPA before and, if I'm being completely honest, didn't know much about the brand. I was just excited to have landed a job in one of the biggest and most popular spas in my home city. I started off by getting trained in house by the Head Therapist and I very quickly started to love working with these amazing products and performing such beautiful treatments. But it wasn't until I went on a weeklong training course in 2012, to Gleneagles, which was where the Scottish Training base was for ESPA at the time, that I truly fell in love with the brand. The trainer I had was so dedicated and inspiring it was hard to not be fully absorbed. It was her passion for the company she worked for that made me take a step back and wonder if this is the direction that I wanted my career to go in…. the answer was yes, it absolutely was. I was very aware that I was still extremely new to the industry and I still had a lot to learn but that goal of becoming not only a trainer, but an ESPA trainer, was always in the back of my mind. During my 3 years at One Spa I made sure that I grabbed any new learning opportunities with both hands and took on any responsibilities that were thrown my way. During this time, I had contacted ESPA and asked what they would be looking for if I was to be considered as a trainer in the future…I needed to get as much experience as possible. So, once I had learned everything I could, with a very heavy heart, I left One Spa.
My next big adventure took me to The Spa at Gleneagles (one of the biggest golf and spa resorts in Scotland). I commuted every day from Edinburgh…some people thought I was crazy for doing this, but it was worth it. I absolutely loved my time at Gleneagles. A few months after joining the team I became one of the Senior Therapists. I was honoured to have gained this promotion so quickly but I ran with it. It meant that I could learn all the treatments we had on the menu, and it was a huge menu. Every time I heard I was going on training I got so excited. I just loved learning all the ESPA treatments. I covered everything from pregnancy massage and ayurvedic treatments to being in one of the first ever groups ESPA taught their cancer treatments to. This is was such a special week. It allowed me to fully understand how we could perform safe and relaxing treatments on anyone that was going through or had gone through cancer treatment. It meant we never had to say no to any guests coming to the spa, which used to be such a difficult thing to do. My trainer this week, who is now one of my amazing mentors, colleagues and friends, put her whole heart and soul into it. Yet again I was witnessing another ESPA Trainer who had so much passion and dedication for the brand.
After being Senior Therapist for around a year the position of Spa Supervisor came up. I went for it. I had some extremely tough competition, so you can imagine how delighted I was when I heard I'd got it! I'm not going to lie, being a Supervisor certainly came with its challenges. From trying to cover sickness to people showing up for treatments that weren't on the system, but these small things were definitely outweighed by the good things. This role allowed me to be a support to the rest of the team.  If they had a problem they would come to me. If they had a question I would try my best to answer it and if they needed a shoulder to cry on, I was often that shoulder. I was always so glad that the therapists felt they could approach me…about anything. Being a supervisor also meant that I got sent down to ESPA House in Farnham, Surrey to do the Train the Trainer course. I'm sure you can only imagine how excited I was when I heard I was going! This was the moment I had really been waiting for, when I could go and actually learn more about the training side of things and it also meant that I could train any new therapist that started at Gleneagles. I had an amazing week in Farnham. The knowledge I gained was invaluable and the support I got was incredible. This just made me even more sure this was what I wanted to do one day. After this amazing week at Farnham I returned to Gleneagles and got to put everything I learned into practice and I loved it. Unfortunately, in 2017 I injured my back and the commute to and from Gleneagles became more and more difficult for me. After months of being in pain and debating with myself as to what I should do, I made the very difficult decision to leave and work a bit closer to home for a while to let myself fully recover…which thankfully I did.
I worked in a Private Medical Clinic in Edinburgh for a year and a half. I really enjoyed my time in this job and learned a lot. I even did a phlebotomy course, so I could take blood! I wondered during my time at the clinic if I should just forget about my dream of becoming an ESPA trainer as I wasn't working in a spa anymore, but it was always in the back of my mind. Then in 2019 a position came up for a UK & International Training Manager, I went for it and got it! It took a while for it to sink in. It was something I had wanted for years and now that I finally had it I couldn't quite believe it!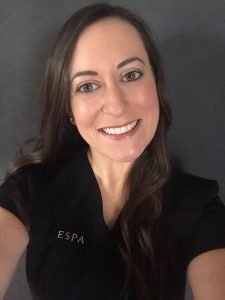 My first week was spent with my manger and my 2 mentors, 3 people who I had come to know during my time working at One Spa and Gleneagles. I was welcomed with open arms. It was like coming home and I loved it.
Now that I am a Training Manager with ESPA I couldn't imagine doing anything else. Every week brings something new and no 2 days are ever the same. Sometimes we are teaching product knowledge to a reception team or a different treatment each day to a group of therapists and whether I am teaching in the UK or abroad I absolutely love it. Our therapists always make training an absolute joy. Last year I visited Estonia which is somewhere I never thought I'd go and it was just amazing. There have been so many brilliant trips and I'm sure there are lots more to come!
As much as an ESPA Trainer is a lone worker, I could not imagine doing it without the support of the other Training Managers. We may only see each other twice a year but hardly a day goes by when we are not in touch, whether it's over email, whatsapp or facetime there is always someone there that you can talk to. I think its quite hard to truly understand the life of a Training Manager so to have this amazing group of women to call my colleagues and friends who understand the highs and the lows is something truly special.
I would not change my job for the world! To any new therapists out there, if you have a goal then hold on to it, keep working hard…you will get there!