Set along Palm Beach, The Ritz-Carlton, Aruba resort offers an island escape that blends natural beauty with luxury. Fiery sunsets and calm, turquoise water are the backdrop for an enticing array of luxury hotel amenities.
Create memories with everything this luxurious Aruba resort has to offer, from stand-up paddle boarding, learning yoga for the very first time, being pampered with decadent spa treatments, indulging in fine dining, or trying your luck in the non-smoking casino. 
 A culturally diverse and historically rich island, Aruba is a unique oasis with a vibrant history. At the island's extreme ends are rugged windswept vistas and Arikok National Park, home to vast animal and plant life or the natural bridges and pools formed thousands of years ago. An unforgettable stay is not complete without an excursion to downtown Oranjestad, just 15 minutes away from the resort.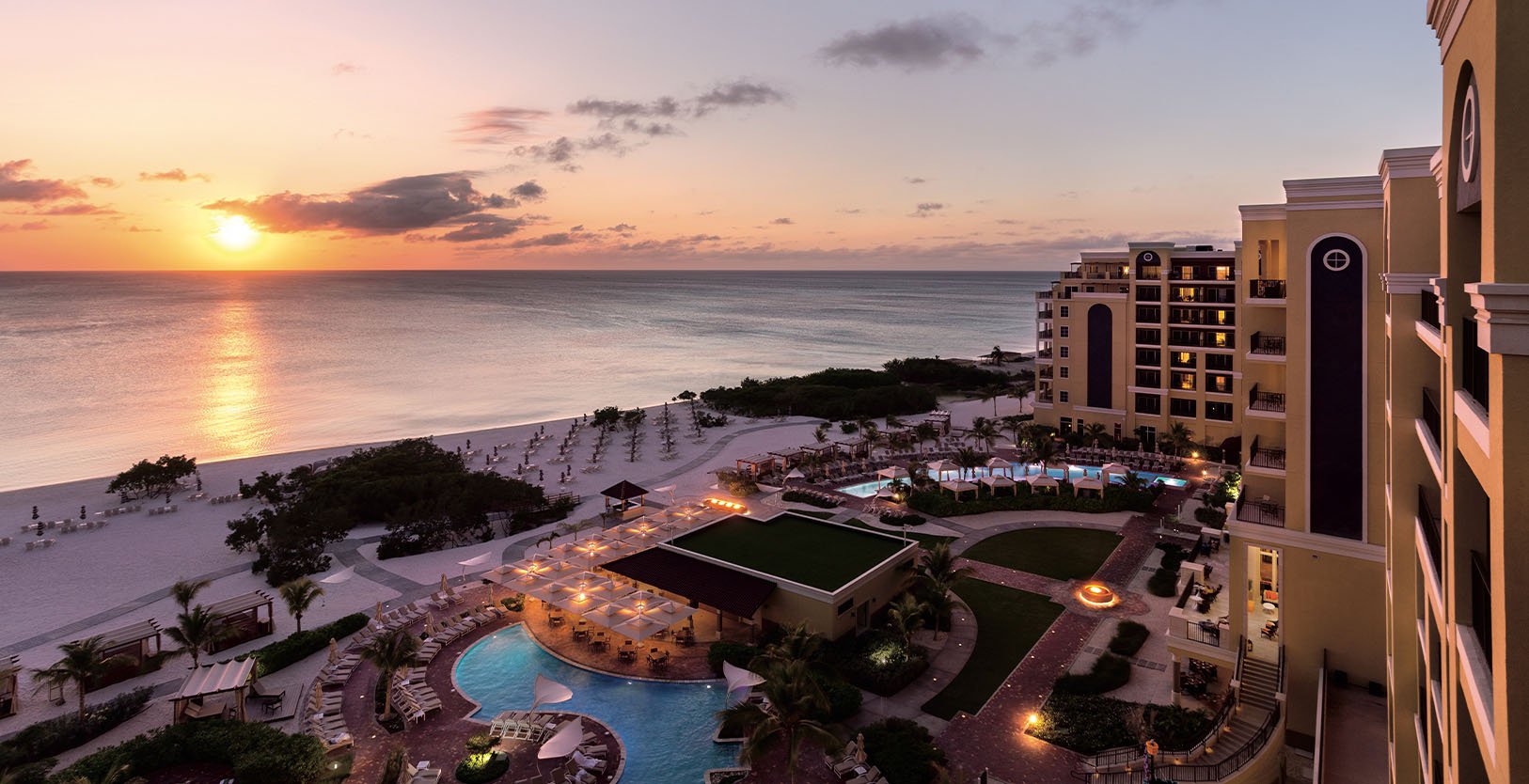 Treatments:
Within a 15,000-sq.-ft. beachfront sanctuary, The Ritz-Carlton Spa, Aruba offers healing and relaxation with a distinctly local touch. Aloe, coffee and other indigenous ingredients are showcased in signature treatments and paired with science-driven skincare from ESPA and Eminence for results-oriented facials. Relaxation lounges include whirlpools, saunas and steam rooms, and an oxygen bar helps reduce stress and boost energy. The resort's luxury spa is ideal for couples or bridal parties and includes 13 treatment rooms, a hair and nail salon and a boutique.
During the month of August The Ritz-Carlton, Aruba is featuring the Resist & Fortify treatment. This treatment focuses on strengthening the immune system while restoring inner calm. Treatment includes dry brushing, body exfoliation, marine mud wrap and massage. 
 The Nourished Glow treatment is also one of the favourites among our guests. The salt and oil application leaves the skin feeling nourished and hydrated. 
Interview with Lia Wout, Spa Manager
How long have you worked at ESPA, and how is different to other brands you may have worked for? 
I have worked at The Ritz- Carlton Spa, Aruba for 5 years. Working with ESPA has elevated our spa experience for our guests as well as our staff working at our luxurious spa. ESPA supports us not only with high quality products, but also by making sure our spa therapists are equipped with the knowledge and training to offer our guests a luxury treatment. Our guests can leave our spa feeling renewed and with home care recommendations so they can extend their spa experience.
Can you tell us a bit about your job and day-to-day activities.
As Spa Manager, I oversee all aspects of the spa operations. My day to day activities range from personnel management, supervision of the maintenance of facilities, to the development and proper management of budgets and the creation of marketing campaigns and promotions. In addition, I get to interact directly with customers to ensure they are satisfied with the spa facilities and services.
What is your favourite ESPA product and why?
My favourite ESPA product hands down is the Balancing Foam Cleanser. 
What is your favourite part of the spa, and of the resort.
I would have to say my favourite part of the spa is our Jacuzzi's. We have an outdoor Jacuzzi that is closed off so still very private. You get to enjoy the warm breeze while enjoying the Jacuzzi.
What is your favourite ESPA treatment and why?
My favourite ESPA treatment is the Ultimate Body Balancer. It is the perfect way to combine a body treatment and facial. 
What is the best time of year to visit your resort?
Aruba is a perfect beach destination with year-round summer climate fostering a wealth of recreational experiences.
What makes your spa so different to other spas?
Our staff have a great sense of pride in the work that they do. We have amazing products and treatments, but it is really the passion that they bring to work every day that creates the most memorable experiences.
What would you say to someone who had never tried an ESPA product or treatment before? 
With ESPA you get the complete package. Not only do you get luxury products that show results, you get the best natural ingredients and the science to go with it. My favourite thing about ESPA is that they center everything around spa education. Not only when it comes to the products, having a wide range of products to fit your every need, but also in making sure the therapists have the best trainings so they are highly trained to offer the best services and recommendations to your as possible. In addition, ESPA offers so many life style suggestions to help you feel better. So when using ESPA products or enjoying ESPA treatments, you are really taking care of your mind and body. 
 What tips do you have to stay relaxed and mindful day-to-day?
Definitely have a moment every day that is just for yourself. Even if it is 5 minutes. Have a moment to focus on your breath. Whenever you feel overwhelmed, focus on your breath. Tuning into your breathing can help you re-focus and clear your mind. #
If you could summarise ESPA in one word, what would it be?
Wellness 
Book The Ritz-Carlton, Aruba now